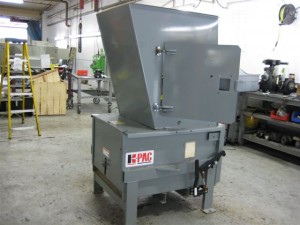 Stationary compactors are great for those with dry-waste needs. Our wide range of sizes and compaction rates allows us to service everyone from small retail stores to factories that produce large amounts of dry waste. Our stationary compactors are highly durable and will take care of all of your commercial and industrial trash compactor needs. If you have a good mix of dry compacting needs – such as cardboard or mixed paper – these stationary compactors are exactly what you're looking for.
Please feel free to check out our inventory of industrial strength compactors.
---
Stationary Trash Compactors we provide:
KSMINI 1/3 Series
The Stationary Compaction "MINI" Series are designed to do big jobs in small spaces.
View Specifications (pdf)
KS2 Series "Stubby"
The KS2 Series is affectionately called "The Stubby". Its overall length of 71 inches enables the KS2 to fit snugly against any structure.
View Specifications (pdf)
KS2S Series
The KS2S Series is suitable for those small industrial applications, hospitals, retail and food stores. Ideal for the solid waste stream or recyclables.
View Specifications (pdf)
KS3S Series
The KS3S Series offers a large 55 1/2″ x 57″ charge chamber opening and is capable of accepting bulky refuse with superior compaction rates.
View Specifications (pdf)
KS4S Series
KS6S Series
The KS6S Series offers a 100″ x 57″ charge chamber opening, capable of accepting large, bulky refuse, ideal for the rapidly growing Transfer Station applications.
View Specifications (pdf)
KS4PC and KS6PC Series
The pre-crushers are designed to reduce the mass of hard-to-compact or bulky material. They are also used to crush and destroy materials and products that waste generators want destroyed before having them sent to the disposal site.
View Specifications (pdf)
To find out more about our selection of compactors, simply get in touch with us.
Find out more
Need more options?